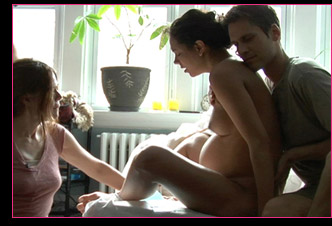 As I mentioned earlier, Bekki and I recently got a new DVD player after our cat, Clementine, broke the old one. After watching
Milo and Otis
being thrown off of cliffs, we decided to sign up for Netflix in order to receive a better selection than our local Wal-Mart has to offer. The first viewing was
The Business of Being Born
, a 2008 documentary directed by Abby Epstein and produced by Ricki Lake.
Ricki Lake was not my first choice of talk-show host to see naked and giving birth in a bathtub (Queen Latifah, anyone?), but I have to admit that it was probably the most beautiful thing I have ever seen. It was a ballet of nature and humanity that held you truly riveted. To see that little rascal (no, not Buckwheat) slide out of Ricki Lake's cooter into the water was a shock to the system and one of those reaffirmations you sometimes have that life is truly beautiful. Words fall short in describing this spectacle.
If there are any expecting mothers reading this out there in blog-country,
watch this film!
Remember that you have options about your own body, no matter what Sarah Palin thinks.